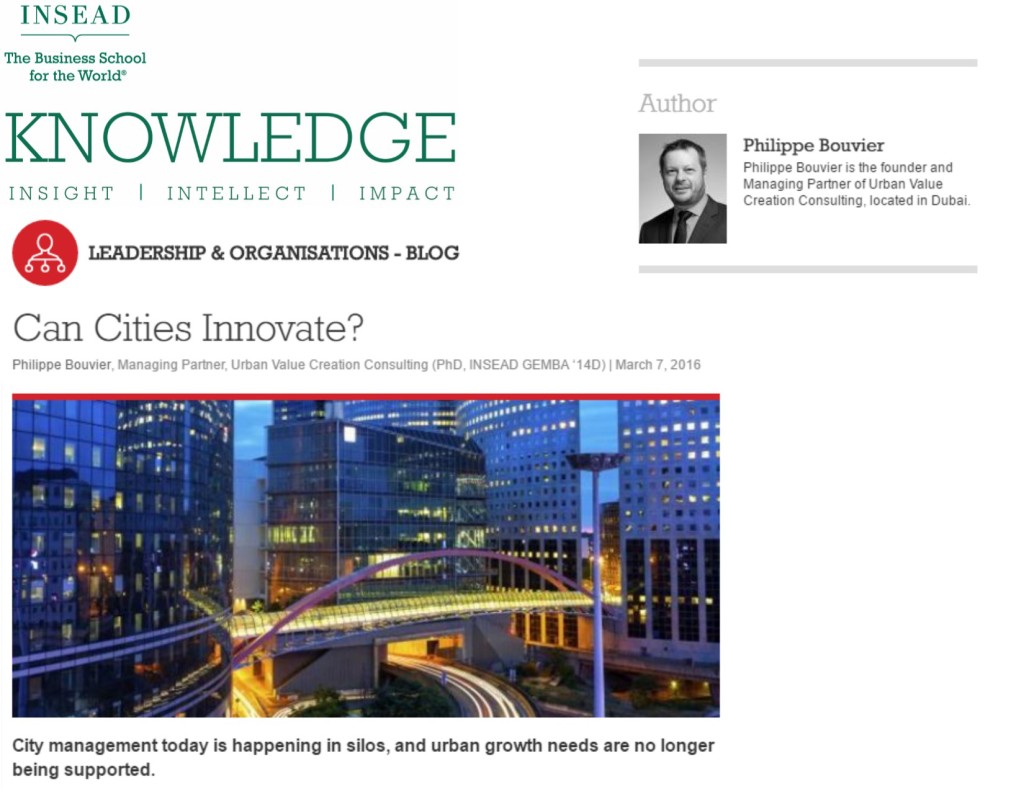 Can Cities Innovate?
City management today is happening in silos, and urban growth needs are no longer being supported.
"Innovate or stagnate", that's how Sheikh Mohammed bin Rashid Al Maktoum, Ruler of Dubai and Vice President and Prime Minister of the United Arab Emirates (UAE) motivated his government to launch the year 2015. This challenge is typical for today's cities. Innovation is fundamental to solving today's complex business and social problems. But such innovation can only happen where start-ups and entrepreneurs have the infrastructure and resources to be disruptive, which is why urban environments have to be innovative too.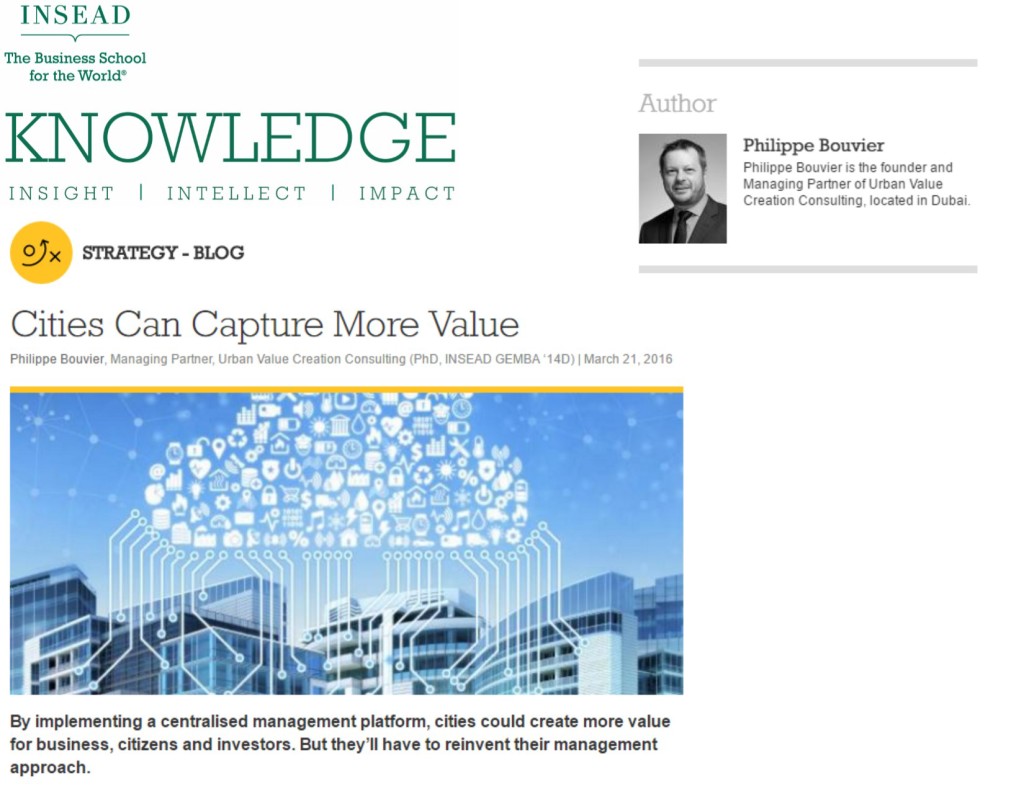 Cities Can Capture More Value
By implementing a centralised management platform, cities could create more value for business, citizens and investors. But they'll have to reinvent their management approach.
Moving from segmented city management to systemic urban management using a city platform will create value through a combination of enhanced city characteristics. These will include more efficient resource management and demand management, business intelligence, better quality of services across departments, and an increased number of city dwellers. In addition, city platforms will help to decrease energy consumption, pollution (GHG, air, noise), response time between departments, and damages in case of incident, crisis or catastrophe.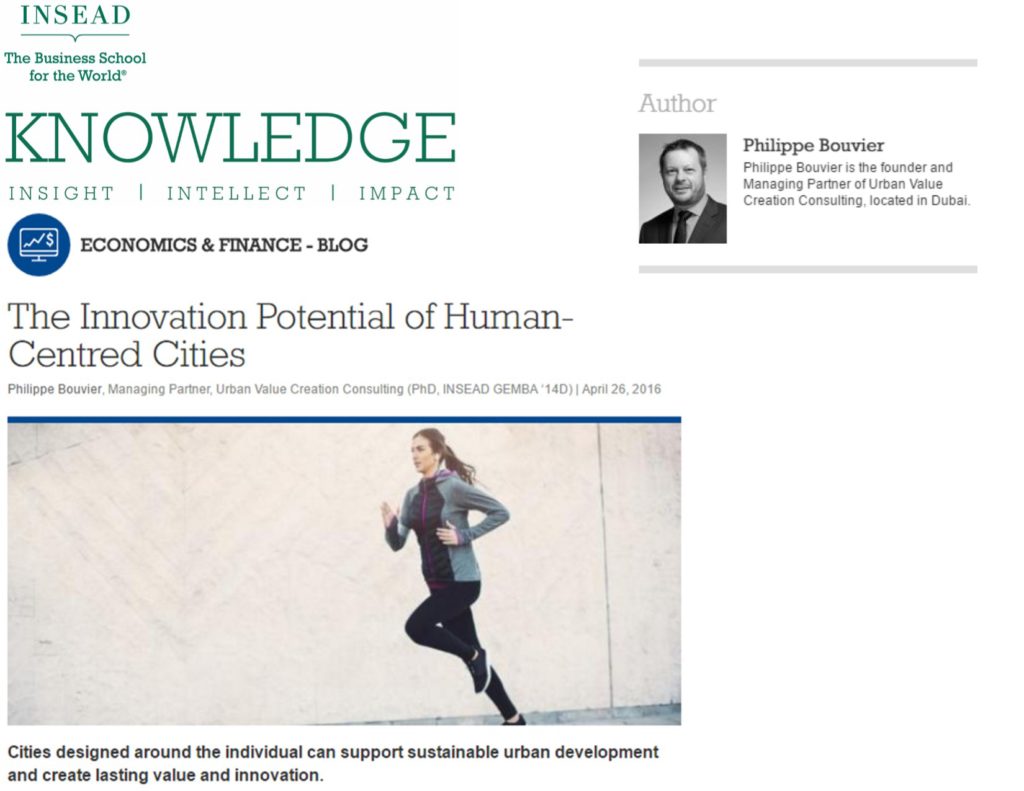 The Innovation Potential of Human-Centred Cities
Cities designed around the individual can support sustainable urban development and create lasting value and innovation.
Urban value innovations are innovations that create value for the people and support the sustainable development of the city. From a business perspective urban value innovations need to align innovation with utility (improved quality of living in sustainable cities), price (competitive market price) and cost (to produce the product or service). The city of tomorrow should be a "smart" and a sustainable one, where urban value innovations based on human-centered innovations will support social, economic and environmental innovations.
INSEAD KNOWLEDGE PDF ARTICLE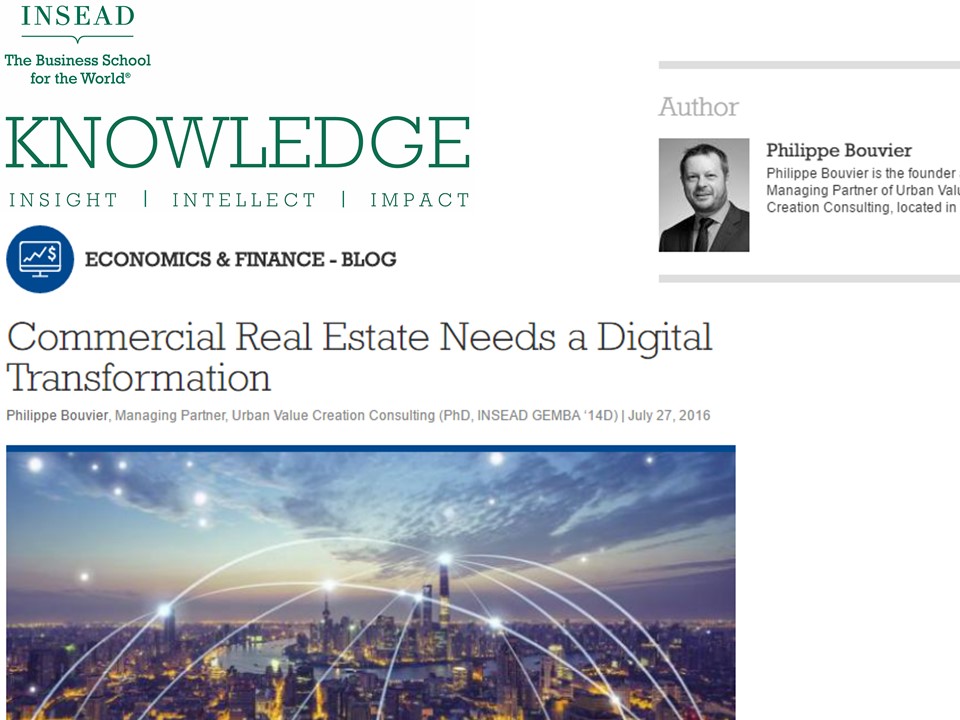 Commercial Real Estate Needs a Digital Transformation
From landowners to urban residents, all stakeholders would benefit from bringing digital, collaborative and transformational elements together in the traditional real estate value chain.
In a real estate project, collaboration and coordination between stakeholders should reject the silo perspective and consider the overall value chain in order to optimise the value created and captured in the ecosystem. When a dominant company or organisation is present in each market of the real estate value chain, it should assume responsibility for convincing all stakeholders and coordinating their efforts using digital tools and technologies. The end result of such systemic management would be a more sustainable real estate development or city from which all stakeholders would derive tangible and intangible added value.
INSEAD KNOWLEDGE PDF ARTICLE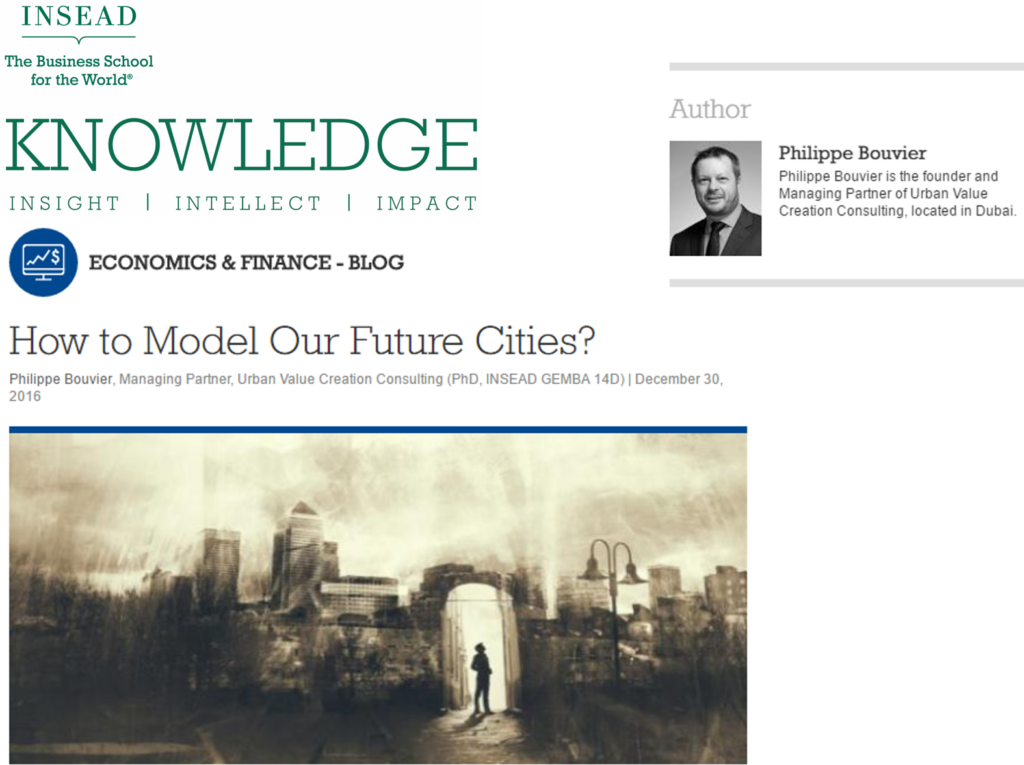 How To Model Our Future Citites?
The representation of the city we need is a mystery to us; now, without that vision, we "mutilate" urban value.
Our traditional urban management fails (congestion, pollution, waste of energy) and urban governance struggles (siloed urban organisations and operations, economic pressures) because they rely on an incorrect model of representation of a "city". Urban leaders ask the wrong question, "What is a city?" when no unequivocal answer exists and then design their city as a set of independent organisations. To find the next model for our future cities, we need to answer different questions.
A better approach to designing and creating value in future cities should consider: 1) What does a city do? 2) How is the city organised? 3) What will the city become?
INSEAD KNOWLEDGE PDF ARTICLE
Our media activities include:
Publishing authored articles
Moderating panel discussions
Speaking at conferences
Being interviewed on the TV
They are detailed on our Blog. VISIT OUR BLOG
We create value in the urban environment in order to develop an intelligent urban life in a City we need.
We create value in the urban environment in order to develop an intelligent urban life in a City we need.